Non-violence in a Violent World...
We wanted our books to give examples of things that could be...characters who say and do things that make for a better world...characters who help others in need, find peaceful solutions to dangerous situations, who evidence love and loyalty...
And so, we write about dogs in the world of humans. Dogs as characters whose
selfless words and heroic actions help people, heal people, and even save Christmas.
The stories are fantasy-adventure tales, but, we believe, have an underlying reality...
Based on the real world where violence is something we must all deal with in our lives, and the fantasy world of children, the dogs are given heroic roles wherein they embody ideal behavior -- in ways that children and dog lovers know makes sense.
In all our books, the dogs find non-violent solutions in a violent world. 
We have had concerns about finding a balance so that the books would be fun to read, hold kid's interest, and still provide understandable lessons in living. 
 We are most appreciative of readers, teachers, librarians and reviewers who have recognized and endorsed our efforts in this regard, including -- but not limited to -- Don Blankenship, Wayne Walker, Nancy Houser, Cheryl Malandrinos, Janie McQueen, Karen boss, Julie Hauck, Charyl Pingleton Miller, Joy Ward, Barbara Julian, Janie McQueen, Joy Ward, Alice Berger, Wendi Barker, Darlene Arden..)   
................................................
Christmas is coming...
We are offering a complimentary copy of Snow Valley Heroes, A Christmas Tale, to librarians, teachers and therapy dog owners who are encouraging kids to read

to therapy dogs...(email us at [email protected] for your complimentary copy)
Pages for Preston...
 Our involvement with therapy reading dogs began with Julie Hauck, a third grade teacher, trainer, mother and innovative developer of the
Pages for Preston Program in Sheboygan, WI.  These are photos of Preston, in Julie's Longfellow School  third grade classroom. 
Julie, with 12 years as a devoted teacher, recently told us," Students are so excited to read with a dog...that is the absolute main focus...Don't be afraid to run a program in several ways. In the four years that I have run Pages for Preston, I changed the program three times. I finally settled on The Sisters' Daily Five
Organization of Literacy Stations as the basis for our program...a tangible benefit of therapy reading dog programs is the big increase in students' motivation..." 

The Power of Motivation... 
The power of motivation takes many forms...The ability dogs to create trust, to heal the spirit, and to bring joy to the lives of children and adults alike is rather extraordinary. We salute them.
We currently support therapy reading dog programs in Indiana, Wisconsin, New York, New Jersey, Connecticut, Massachusetts, Rhode Island, New Hampshire, Florida and Texas. 
Let kids read dog stories to dogs! 
Meanwhile, the reprise of our therapy reading dog friends continues with photos(below)  of Glacier Bear, Rocky, and Rose.
Our reprise of therapy dog friends continues in our November Post.
Here is  the opening of Ariel Wolf's post, Help! My Dog Ate Poison...
"Last night an old friend contacted me online because her new puppy had just eaten some rat poison. She was beside herself because she didn't know what to do to help her dog. It was 1 a.m. and the veterninary emergency clinic wanted $350.00 to treat the puppy. My friend didn't have $350.00 lying around for an emergency vet visit. In this economy, how many of us do?  The clinic told her to induce vomiting, so she dosed the puppy with peroxide and the little dog vomited up the poison pellets. But what next?
I realized just how little I knew about poisoning in dogs. I have lists of substances that are poisonous to canines, but I had no clue what to do to help the dog, and I certainly didn't have $350. to loan her.  So I did some fast research..." The post continues, offering Treatment Guidelines as well as the rest of the real-life story of her friend's puppy. To read it all, as well as other dog-related biscuits, visit Up on the Woof at http://thewoof.worspress.com
Ariel is the  multi-talented  dog loving author of Born Without A Tail  as well as the creator of the wonderful Yelodoggie cards, mugs and gifts...www.yellodoggie.com.  
.............................
Solace and Love...
Here is the opening of an exceptionally well-written article, by

Jon Katz,

for

Slate

, on the comforting wonders of dogs.
A Patient's Best Friend
My dog's amazing gift with hospice patients.
By Jon KatzPosted Wednesday, Jan. 2, 2008, at 8:03 AM ET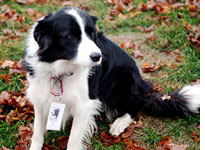 Etta's room was at the back of the nursing home, "all the way to the end, on the left," said the manager coolly. Nursing-home administrators, like some doctors and even family members, aren't always happy to see hospice volunteers, whom they sometimes see as harbingers of surrender.
I unleashed Izzy, my golden-eyed, 5-year-old border collie, rescued from an upstate New York farm. He now lives on my upstate farm, where he's my resident soul mate and shadow. He's what I call a spirit dog—he takes you places you don't necessarily know you're going.
Izzy and I became volunteers together last summer, after weeks of rigorous training by Washington County Hospice. Volunteers are an integral part of the hospice philosophy, but they have to be taught to behave differently than they might normally—to listen rather than give advice, to accept the reality of death rather than cheer everybody up, to be comfortable with the fact that patients will not recover. To never, for example, tell a patient or family to buck up, move on, or cheer up. Generally, things do not get better...
Here is the URL that will take you to the rest of this moving account:
http://www.slate.com/id/2180065/
....................................
More Dogs As Healers...
This is the second excerpt from an article in the New York Times, by Carla Baranaukas.

Exploring the Health Benefits of Pets
...People working with animals expect the research to back up their observations. At Children's Hospital of Orange County in Southern California, for instance, dozens of volunteers regularly take their dogs to
visit patients. Children being treated for serious illnesses often have the blues, anxiety or depression. "The dogs brighten them up," said Emily Grankowski, who oversees the pet therapy program at the hospital.
Some patients who have refused to speak will talk to the dogs, she said, and others who have refused to move often reach for the dogs so they can pet them. So the animals become part of the therapeutic program, especially in the areas involving speech and movement.
"The human-animal bond bypasses the intellect and goes straight to the heart and emotions and nurtures us in ways that nothing else can," said Karin Winegar, whose book "Saved: Rescued Animals and the Lives They Transform" (Da Capo, 2008) chronicles human-animal interactions. "We've seen this from coast to coast...Read more at: 
www.nytimes.com/2009/10/06/health/06pets.html? r=1&ref=health 
.................................
Kicking the Habit: Libraries Play Follow the Leader
This headline was written by career librarian, reviewer, commentator on the book world, and reviewer, 

Nicole Politi.

...she is Children's Librarian at the award winning

Ocean County Library

in Tom's River, NJ. Here is the lead paragraph... 
"I just read Meredith Farkas's "Nurturing Innovation" in American Libraries Magazine and a thought struck me. Public Libraries are not in the business of innovating. Libraries play follow the leader."
To read more of Nicole's post, visit her  Dog Ear blog: http://nicolepoliti.wordpress.com
................................
While we are on the subject of Librarians.... 
Readers of this blog will remember our posts last year regarding the problems of kid's reading and librarians and teachers not taking the initiative -- not being innovative -- in discovering  books that kid's respond to and motivate them to read more... Sheila Ruth(www.wandsandworlds.com) wrote  
Looking for Undiscovered Gems in a Bestseller World 
Ms Ruth wrote about the difficulty today "to recognize and discover those good books that may not make bestseller status". Indeed, how does the child, the teacher, the librarian or the parent find that special book? On her website, dedicated to "anyone who loves reading juvenile and young adult science fiction and fantasy", she wrote:
 "According to the 2008 Scholastic Kids and Reading Report,'Trouble finding books is the key reason kids say they do not read more frequently'. This, in spite of the fact that approximately 30 thousand new children's books are being released each year. With so many books, why are children having trouble finding something to read? Maybe it's because they keep hearing about the same fifity books over and over again, and they don't know how to find other good books that will interest them in the vast quantitites of books out there."
......................................
Librarians, teachers, kids...
Why wait..? You can read sample chapters of all the books in the Planet Of The Dogs series on our website: www.planetofthedog.net
.......................................
Our books are available i
n the USA, at your local Independent bookstore... 
Or on the Internet at B&N, Amazon, Powell's and others...in the UK through Amazon and Bangzo...in
Australia
through Scribbly Gum Books and Fishpond.com...In India through Flipkart and Redigg Books...
in Finland through www.bookplus.fi...In Africa through glendorabooks.net and jump.co.za

................................  
Nancy Houser 's website continues to amaze us with the quality, variety and originality of her
 posts...Here are two samples, a video and a photo of Chewie,  one of the many rescued dogs on her farm.
Visit her site at www.waycooldogs.com
 
Video...a dog lover's delightful fun celebration of dogs:
www.waycooldogs.com/funnydog-video-how-about-it
 FREE Dog Health Course – Part I
Posted on October 15, 2010 by Nancy Houser
How to know you have a healthy dog requires caring for your dog, common sense and being aware at all times of the dog's normal condition – in other words, you need to practice a dog health course of your
own. Unfortunately, the first thing people think of with "healthy dog" is a healthy pet [...
Posted on October 13, 2010 by Nancy Houser
Dog whistle politics are made of concealed coded words used in political campaigning or political speech making. They are intended to mean one thing but refer to another – understood only by a select group. The purpose of dog whistle politics is to manipulate the political system by obtaining desired votes from unsuspecting voters. Political [...]
Nancy posted a video for dog lovers that will make you smile, laugh and be amazed: 
................... 
Librarians, teachers, bookstores.

..order our books directly from Ingram...trade discount, of course.
....................
 Tooting Our Horn...Here are some excerpts from reviews of

Snow Valley Heroes, A Christmas Tale...
"Dog lovers will especially like these tales, but everyone else can enjoy them too.  
Snow Valley Heroes 
has the potential of becoming a favorite holiday story for both children and adults."--Wayne Walker reviewer, Home School Book Review.


"You will immediately be swept away to a magical land...I highly recommend adding this book to your must have holiday favorites."--
Dawn Speese
reviewing on MommyPR


"Snow Valley Heroes is a charming and heart-warming Christmas tale."--Alice Berger reviewer, Berger's Book Reviews

"Dogster's Dog Eared Book Club has chosen Snow
Valley Heroes, A Christmas Tale
, as their November Book Of The Month...I can understand why it was chosen. It is the exciting story of the dogs from the Planet of the Dogs who come to earth to save Christmas. The holidays are right around the corner and Snow Valley Heroes would make a great stocking stuffer.
Bo Hoefinger, author of Bad To The Bone, A Memoir Of A Rebel Dog Blogger,
reviewing for the
Dogster Blog
....................................

Homeschoolers...we have been touched by reader comments and the reviews of LaDonna Harris and the insightful and prolific Wayne Walker, but trying to report on home schoolers and kid's books -- without resorting to cliches and generalizations has  been rather daunting thus far. 
Researchers estimate that there are 1.5 to 2 million Homeschoolers in theUSA, representing 3 to 4 per cent of the school age population -- and more than 80,000 in Canada.
The photo on the left is of the Davis family boys; their parents, Kathy and Gary, publish the Homeschool Buzz, a conprehensive, interactive site offering guidance, information and networking.
............................................
If you see a dog in distress, abused or abandoned, and need advice/guidance on what to do, contact www.sunbearsquad.org
.....................