Elves are still with us...
In the worlds of CS Lewis they are immortal and have great powers.
In the books of Paolini, they incorporate the virtues of righteousness
In Finland they are found in houses and barns; the wonderful illustrated book of Elves by Muari Kunnas tells of them. 
In Snow Valley Heroes, A Christmas tale, they live in their own village helping Santa by making toys and taking care of his reindeer.
Elves built the first dog sleds to help Daisy, Bean, and the Tundra Town Traders in their quest -- together with the dogs -- to find the kidnapped reindeer, to free them from the Ice Castle, and to save Christmas for children everywhere.
...................................
Children's Literary Salon...
If you are near New York City and interested in books for kids, here is the latest from Elizabeth Bird at the NYPL: New York Public Library is pleased to announce our Children's Literary Salon for Saturday, December 3rd at 2:00 p.m.: 
Funny Ha-Ha: Humorous Books for Kids
Continuing our series where we explore amusing books for children, we look at funny books in a myriad of forms: funny picture books, funny graphic novels, and funny early chapter books. Join David Roman (Astronaut Academy), Nick Bruel (Bad Kitty), Laurie Keller (Arnie the Donut) and Jules Feiffer (Bark, George) as we look at finding the funny for different ages of kids.
This event will be held in the Berger Forum (we mean it this time) in the Stephen A. Schwarzman Building (42nd Street and 5th Avenue).
............................... 
Following Atticus

...

a book review from Pets Blogs
We sit together, the mountain and me, until only the mountain remains. Li Po
Atticus Maxwell Finch and Thomas F. Ryan are two remarkable characters that will impress you beyond belief. Following Atticus: Forty-Eight High Peaks, One Little Dog, and an Extraordinary Friendship is an inspiring book that will touch your heart and show you the only boundaries we have are those we create ourselves.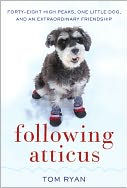 Atticus, a 20 pound miniature schnauzer, and Tom, a bitter middle-aged newspaper editor will take you on a journey of a lifetime. This is not a book about the White Mountains of New Hampshire, or hiking, or how much a man loves his dog. But you will get to read a whole lot about all these things. It is a book about understanding, caring, sharing, loyalty, admiration and dedication...
Here is the link to the article and a video of Tomas Ryan and Atticus in the White Mountains. I know from experience that these are rugged mountains to climb; their beauty is awesome...Link:PetsBlogs 
........................................
Dogs of 9/11
Charlotte Dumas was able to locate and photograph 15 of the surviving dogs of
9/11 out of close to a 100, from 18 different states. She has made a wonderful and evocative book of dog portraits on double page photos, printed on fine paper.
The face on the cover is of  Moxie, age 13, from Winthrop, MA. She and her handler, Mark Alberti, arrived at the site of destruction on the evening of 9-11, and searched day and night for survivors for 8 days.
Published by the Ice Plant. Also available through Internet book sellers.
.......................................... 
I was Disturbed by Dogster when I read...an irresponsible front page lead article by Dogster's training and behavior expert, Casey Lomanaco, entitled Don't Call Me Dog Whisperer. It disturbed me because it was factually inaccurate, unbalanced and blatantly self serving. Dogster has over 2 million unigue visitors a month.
I was somewhat relieved to see some excellent comments pointing out the errors and bias found in Ms Lomanoco's disturbing article. Two excellent corrective comments were made by two professional dog trainers, Coleen Falconer (EnlightenedK9) and Justine Perry (K9Balance).
Here is the Link: Dogster
Here is most of what Colleen Falconer wrote: 
"The article states that Cesar is a trainer…he is not and he even states many times that he is not. He is a dog behaviorial expert and simply a man who relates to dogs on a primal level. I know bashing Cesar seems like the "it" thing here, but I follow Cesar's


philosophies with great success, as I run my own rescue that rehabilitates dogs and I am a professional trainer. I think alot of people get the wrong idea about the "dominance theory" and how Cesar uses it. He believes you should present yourself in a confident manner when handling your dog. If you feel good, your dog will feel good. If you are nervous, your dog is nervous. Your dog is constantly mirroring your energy. Cesar's ultimate goal is to help people understand their dogs and to help people enjoy their dogs without stripping away the dogs natural being. Simply put…a dog is happy being a dog. In my opinion, I feel Cesar's fullfillment formula is simple and effective and applies to all dogs no matter the breed. Exercise, discipline and affection goes a long way and especially with children. I also love how Cesar never bashes trainers, he is just open to trying anything. Ian Dunbar bashed Cesar for so long and I loved how Cesar wanted to learn from him. He always says: Do what works for you and your dog. Maybe his method isn't for everyone and that is fine…what it boils down to is that your dog is happy and in a healthy state of mind... It's all about having a calm and balanced mind when doing it! I am proud when my clients and friends call me the Dog Whisperer!"
The photo is of Colleen and her dog. 
Here is much of what Justine Perry wrote. 
Constant positive reinforcement is not reliable and with a very dominant dog you will not have the respect that is needed! A PROPER correction is not cruel and does not hurt the dog – how do they correct each other? They give each other 'bites', 'hits' on the neck and/or body!
Cesar is fantastic because he does believe in different training methods and that is in his show and his books, he will use food if it is the right thing for that dog but that is not the only thing… It's about understanding all the different tools and how to PROPERLY use them. I take it as a huge compliment when compared to Cesar (although I always say that he best deserves the title after doing this for so long), or better yet, when my dog is compared to Daddy!...Understand the full concept of what you are talking about!! 
The photo is of Justine and her dog, Alex. 
Than you Coleen and Justine for helping to shine light, information and experience on this ill-advised, self-promoting Cesar bashing.
....................................... 
 Video...
There are sooo many videos...these two stand out.
Caleb is a documentary video that brings you into the healing process of Caleb,a young boy who suffered brain damage in a head-on auto accident...A golden retriever named Colonel is the therapy healing dog  who connects with the boy and helps to motivate him...this video is not a tear jerker, but a true affirmation of the human-canine connection...presented by Intermountain Therapy  Animals, home of the R.E.A.D.Program
And for a really upbeat video... click this link and visit Mackenzie at work as a Delta Society Pet Partner. Mackenzie brings good cheer when he visits Columbia Presbyterian Hospital in New York with his mom, Lynn Michalson....we just sent them a copy of Snow Valley Heroes, A Christmas Tale. 
.............................
Kids Reading Dog Books To Dogs
If you have a therapy reading dog and like the idea of kids reading dog books to dogs, send us an email at [email protected] and we'll send you a complimentary book from the Planet Of The Dogs Series.
We will also send reader copies to librarians and teachers with therapy reading dog programs.
I don't know what the kids are reading in this photo...it comes from one of the many excellent programs run by Therapy Dogs United in Eirie,PA.
....................................
READ Sample Chapters of all our books on our website:www.planetofthedogs.net
All books in the Planet Of The Dogs series can be purchased at your favorite bookstore or on the
internet through Amazon, Barnes & Noble , Powells and others... 

Librarians, teachers, bookstores -- order our books directly from Ingram...professional discount, of course. 
"What a wonderful and unique Christmas story for the whole family, Snow Valley Heroes, A Christmas Tale...the third offering in the Planet Of The Dogs series; what an imagination this team has...an ideal book to snuggle up with the little ones on a cold winter night and simply enjoy." -- Don Blankenship, teacher, grandparent, reviewer for Good Books for Kids.
...........................
After 30 years as a teacher... 

Michelle Leckner wanted to continue working
with kids. Inspired by a therapy dog she had seen in a hospital, she and Rory,her 7year old rescued Siberian Husky joined the Nor'wester Canine Assisted Learning Program in Bucks County, PA, for training and certification. They are currently working with 2 groups (4 students in each)in a local high school.
........................... 


Dogs of War: the Courage, Love, and Loyalty of Military Working Dogs
"Military working dogs first gained widespread attention after people learned that a dog named Cairo participated in the SEAL Team 6 mission that led to Osama bin Laden's death. Before that, few civilians realized that dogs served in combat, let alone that they could parachute out of helicopters and sniff out everything from bombs to bad guys.
Like millions of other Americans, New York Timesbestselling author Lisa Rogak was fascinated by the photos of dogs leaping out of planes that surfaced days after the raid. She was compelled to dig deeper to find out more about these brave canine members of the military, especially since her son serves in the United States Army, Delta Company of the 489th Civil Affairs Battalion, and is currently stationed in Afghanistan.
Her research resulted in her latest book, The Dogs of War: the Courage, Love, and Loyalty of Military Working Dogs"...from the HuffPostGreen
........................................
 Frankfurt Book Fair...Here is a bief summary by Deanna Leah of HBG Productions:
 " The Frankfurt Book Fair 2011 was awesome! According to the official figures, there was even an
increase in visitors over 2010. 7,384 exhibitors from 106 countries and approx 280,194 visitors. I spoke lots of German, rode lots of trains, ate lots of..... and conducted over 60 meetings scheduled and spontaneous (sometimes those are the best)..."
HBG Productions is a literary agency representing independent publishers and self published authors in the international marketplace. Deanna specializes in being hands on and personal working closely with her clients and publishers.
She has represented the Planet Of The Dogs series in the London and Frankfurt Book Fairs. Through her efforts, we are now in touch with publishers or publisher representatives in China, Japan, South Korea, New Zealand, Australia and the United Kingdom.
Deanna has a dog named Izzy. 
The photo is of Deanna's HBG exhibit in Franfurt.
.....................................
Golden Retriever Lovers --  Check out Dog By Nature 
.................................... 


Ariel Wulff, author, journalist, yelodoggie artist, dog lover and dog activist had a very succesful Dog Art Auction to benefit Lucky Dog Rescue...her efforts to help this excellent dog rescue operation continues.
The following is from her blog, Up on the Woof.
"If you love to read and if you like animal-themed books, then you are going to want to get in on this action!
Beginning November 1, 2011, I will be hosting a weekly book raffle to benefit Lucky Dog Rescue in Meriden Mississippi. The books being raffled will all have animal themes, and each book will be autographed by its author! There's even some special fun stuff a couple weeks in…when the book to be auctioned will be Garth Stein's "The Art of Racing in the Rain". For that week, anyone who buys a certain number of tickets will automatically receive an Enzo bookmark and "goenzo" lapel pin.
There will be one book raffled per week, for as many weeks as there are books donated. Some of the authors who have already agreed to donate are:
W. Bruce Cameron – A Dog's Purpose
Ted Kerasote – Merle's Door
Barbara Techel – Frankie the Walk 'n Roll Dog
Deborah Eades – Every Rescued Dog has a Tale; Stories from the dog rescue railroad
Robert McCarty – Snow Valley Heroes
Tim McHugh – Ivan! A Pound Dog's View on Life, Love and Leashes
Pam  Houston – Sight Hound
Kelly Meister – Crazy Critter Lady
Carolyn Parkhurst – The Dogs of Babel
Bo Hoefinger – Bad to the Bone
Bob Tarte – (with a title to be announced)
…and more authors may be joining the cause....To help out Lucky Dog Rescue and buy some chances to win, please visit:www.yelodoggie.com/ldrbookraffle.html.  Be sure to bookmark the page and stop by every week throughout the months of November , December and January for a chance to win great books!"
The photo is of Ariel and her Dillon.
............................................. 
Diverse, relevant, intelligent... The first class articles and good reading never stop at Nancy's Way Cool Dogs (Link)
Dog health, raising dogs, true and interesting dog storie, dog issues and dog problems...they're all under one roof at Way Cool Dogs. Here are a few recent titles
and topics:
A Dog Story: A Small and Dainty Doberman by the Name of Curly
Renting a Drug Sniffer Dog
How Preventative Oral Care Protects a Dog's Teeth and Gums
The Dog Who Shopped for His Own Food
A Dog Story "I got you now. You're my prisoner" ....I've visited a lot of sites for dog folks and many are repetitious, too commercial, or awkwardly written. However,  I believe in Way Cool Dogs...a very special destinationfor dog owners and dog lovers.
The photo is of one of rescued dogs on Nancy's Nebraska farm.
......................................

 Dogs and Integrity
I find Learning from Dogs to be an idiosancratic blog. My reactions to the content (and syntax) are varied, but there is no question regarding the high level intentions and devotion to dogs of the host bloggers: Paul Handover and Ion Lavin. Here is an excerpt from an article entitled Dogs and Integrity:
"Because of this closeness between dogs and man, we (as in man!) have the ability to observe the
way they live.  Now I'm sure that scientists would cringe with the idea that the way that a dog lives his life sets an example for us humans, well cringe in the scientific sense.  But man seems to be at one of those defining stages in mankind's evolution where the forces bearing down on the species homo sapiens have the potential to cause very great harm.  If the example of dogs can provide a beacon of hope, a incentive to change at a deep cultural level, then the quicker we 'get the message', the better it will be.

 Dogs:
are integrous ( a score of 210) according to Dr David Hawkins (integrous= having integrity)
don't cheat or lie
don't have hidden agendas
are loyal and faithful
forgive
love unconditionally
value and cherish the 'present' in a way that humans dream of achieving
are, by eons of time, a more successful species than man."
 To read more visit learningfromdogs.com


The dog in the illustration above is from

Snow Valley Heroes, A Christmas Tale 

.......................................


 I was asked to review Awkward Family Pet Photos. I found it awkward to write a review. I am not a viewer of America's craziest videos or Stuipid Pet Tricks. If you like this sort of thing, vist the Awkward website; it will give you an excellent idea of what the book is like. You may find it quite funny...Over 11,000 people on their site are fans.
Here is the link:Awkward.
............................... 
When the Roommate Has Four Legs
The need for dog lovers, especially those who live alone, to find apartments in the areas near New York City, is ongoing. This article, by Antoinette Martin, reviews the situation and finds realestate developers on both sides of the dog fence. Here is an excerpt: "...But the Value Companies had different plans two and a half years ago when it opened the140 Mayhill complex in Saddle Brook. There, Mr. Linefsky said, "we have the flip side, with a building put up with pet-related culture in mind, and we encourage them — within weight and breed limits," and with payment of a deposit and monthly fee, he said. Around 20 percent of residents have pets, the vast majority of them dogs.
"In the back of the building," Mr. Linefsky said, "we have a doggie station, where residents can discreetly and cleanly pick up after their pets. In general, we find that people who are pet-lovers understand the privilege."
Size and breed restrictions tend to vary from community to community and building to building, depending on management prerogatives and the accommodations provided for dogs to "take care of business," as Brian Gretkowski, the regional property manager for Kettler Management, put it.
The 140 Mayhill complex has a one-pet limit, and that pet can weigh no more than 20 pounds. But the Alexan Riverdale in Riverdale and the Alexan CityView in Bayonne — which have fenced-in dog parks and plenty of open space nearby — permit two dogs weighing up to 25 pounds each, said Mr. Gretkowski, whose company manages those buildings..."
This link will take you to the complete article:Roommate.
The illustration shows a dog in a home of one of the Forrest people in Castle In The Mist. All dogs were welcomed in thos days, long, long ago.
.................
Good Books For Kids-Reviews



I think this is an excelent site for anyone buying books for kids. 
I believe in these reviewers, their approach and in their comments about reading level. Here is what the folks at  Good Books For Kids (link) say about themselves:
What is special about this site?

The books mentioned on this site are handpicked by the staff which consists of Don, a teacher and grandparent, Shan, mom and children's librarian, and Pam, book lover, education nerd, and mom of two. 

Unlike other sites which only review new books, we spend a great deal of our time finding older books that are worthy of your consideration.

And because we believe that children can become frustrated by attempting books that have vocabulary that is too difficult, we make every effort to give adults the reading level of the books we review here.  (This does not mean that these books cannot be read to younger children.  Nor is it a RULE that must be followed.  Instead the reading level should be used as a GUIDELINE.  Children may naturally read above or below that number.)  Using this guideline saves you time from searching endless lists and websites looking for appropriate books for your children. Where do our books come from? Our books mostly come from the

library,

however, on occasion we do receive Review Copies.  It is our policy to never agree to give a positive review, nor in fact, do we even guarantee that a book will be mentioned on this site.  Instead we feel our primary responsibility is to you, the reader and potential buyer...  

...............................................




If you're a kid who likes to read, they want to hear from you! Every month, they'll pick a Back-Seat Book Club selection. They hope kids will read it, then send in questions. At month's end, the'll put some reader's questions to the book's author during the NPR afternoon radio program, 

All Things Considered.
.......................................................... 

...........................................................

 

Sunbear Squad

...Transforming Animal Lovers into Animal Welfare Defenders
This site offers all-original knowledge, tools, and inspiration to help individuals prepare to report signs of animal abuse, animal neglect, accidents, and distress promptly. In other words, "Be a Better Good Samaritan for Pets."
Here is an excerpt from one of many true life rescue stories posted by Sunbear members and advocates:
"It was a bitterly cold, somewhere around 15 degrees the day my sister Malissa agreed to help her friend move. It had snowed the night before and was snowing again when they arrived at her duplex. Malissa had gone through the sliding glass doors into the back yard to throw something into the trash can when she heard whining in the yard next door. By standing on the pouch she could see over the six foot wooden fence. She was horrified to see a puppy chained to a picnic table in the yard. The pup was so skinny you could count every rib and she was shivering fiercely.
She asked her friend about the dog and was told not to worry about it, that it was out there all time and would be fine. My sister wasn't just going to leave this pup to die..."

Here is the link to read the rest of this  -- and many other -- stories: Rescue. 
................... 
 "To his dog, every man is Napoleon, hence the popularity of dogs."
Aldous Huxley, Reader's Digest(1934) 
........................................................................................